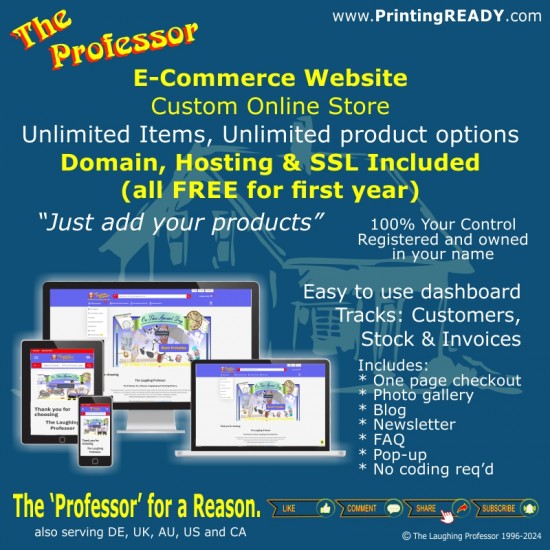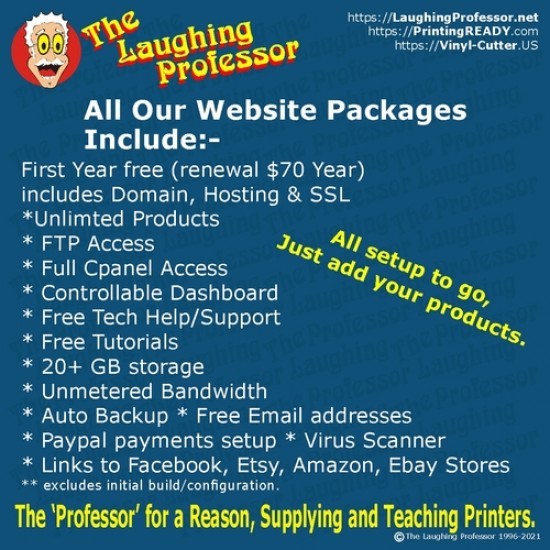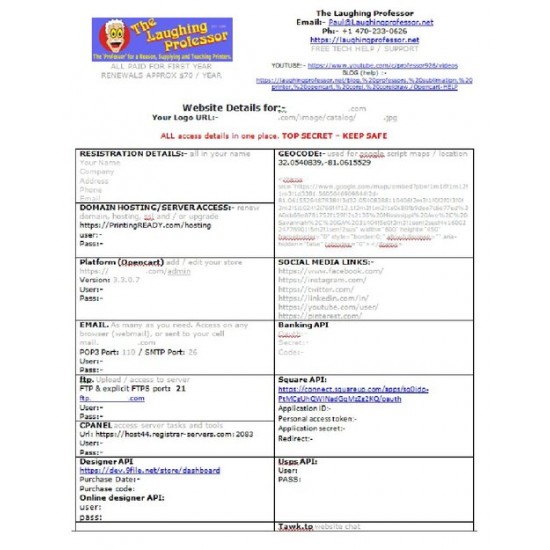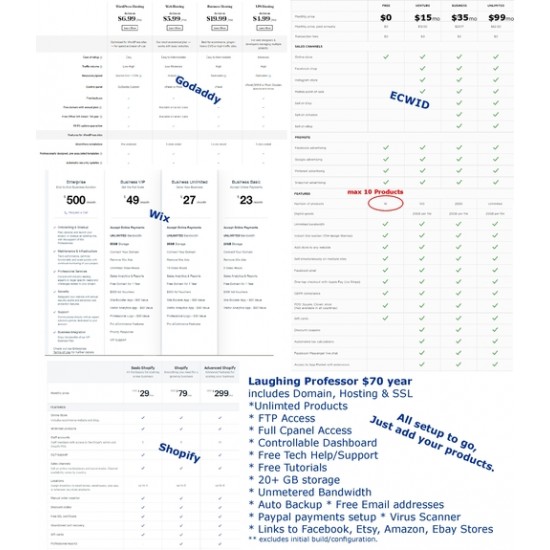 US Data Center

Starter

Starter Plus

Business Pro

Disk Space


2 Gig

10 Gig

25 Gig

Bandwidth


Unmetered

Unmetered

Unmetered

Hosted Domains

1

1

4

Subdomains


3

5

10

Backups


Twice weekly

Twice a Week + Autobackup

Twice a Week + Autobackup

cPanel (Control Panel)


YES

YES

YES

Website Builder


YES

YES

YES

FTP Users


YES

YES

YES

Email Accounts


4

4

Unlimited

Webmail


YES

YES

YES

PHP MyAdmin

YES

YES

YES

CGI


YES

YES

YES

Virus Scanner


YES

YES

YES

SSL/TLS Manager


YES

YES

YES

AWStats

YES

YES

YES

Google Analytics Compatible


YES

YES

YES

E-Commerce


YES

YES

YES

Transfer Assistance


YES

YES

YES

1 Year (Hosting)

$35

$45

$110

Domain .com name (1 Year)

$15

$15

$15

SSL (1st year)

FREE

FREE

FREE
| | | | | |
| --- | --- | --- | --- | --- |
| FTP | | | | |
| Cpanel | | | | |
| unlimited email | | | | |
| Sales reports | | | | |
| product filter | | | | |
| Unlimited products and manufacturers. | | | | |
| Sell digital products. | | | | |
| Multi currency supported. | | | | |
| Product reviews and product ratings. | | | | |
| More than 20 payment gateways. | | | | |
| More than 8 shipping methods. | | | | |
| Multiple tax rates. | | | | |
| Backup and restore tools. | | | | |
| Printable invoices | | | | |
| Individual Store Shopping Carts (Mobile Optimized) | | | | |
| Stand Alone Web Presence | | | | |
| Built-In Administrator Console | | | | |
| Shipping calculations (weight and size) | | | | |
| Password Protection for Each Store | | | | |
| Report Builder | | | | |
| Inventory(by Size & Color) | | | | |
| Automatic Store Close Setting | | | | |
| Quantity Break Discount | | | | |
| Required Minimum Order Quantity | | | | |
| Unlimited categories | | | | |
| Unlimited Stores | | | | |
| Discount coupon system. | | | | |
| Newsletter | | | | |
| Blog | | | | |
| FAQ | | | | |
| Slider | | | | |
| Carosel banner | | | | |
| ask product question form | | | | |
| advanced seo | | | | |
| custom pop-up | | | | |
| one page checkout | | | | |
| photo gallery | | | | |
| unlimited layout options | | | | |
| no coding | | | | |
Website Ecommerce Package III
Ecommerce Website
Web store build.
PACKAGE III
* READY - 3-10 days
Join our
Facebook Group
and stay upto date with
NEW products and Stock
(also Special Pricing available on many Products).
We will setup a new hosting package and purchase or transfer a domain name to to our servers Install and configure Opencart platform to create an eCommerce store with shopping cart. This include admin/editing that only you can access providing customer invoicing and stock control. Displaying as many products as you choose, with varying options and choices. Your store will be able to accept Checks and Paypal - paying you directly. Create your very own email that matches your domain. Paul@LaughingProfessor.net as many as you need. We will also provide as much support and help as you need - FREE Inserting meta tags and seo, used by search engines to promote your website. we also start you off be creating from your products a couple on your new website so you can see and copy the details for your other items. Included... Domain Name, Registry and Hosting, Email(s), Product Store, Payments linked to your paypal, flat rate Shipping setup, tax rate setup, meta tags, basic seo,

more details about this package HERE


Domain (name):- Your own portion of the internet. with a unique name that you will give it. (https://www.LaughingProfessor.com) This name will cost, and varies although is cheap. Even once you own this space you can change it's location as you may need without changing any of the visible characteristics. This domain must also be registered, like a proof of ownership/license, this is renewed each year.


Website

:- What you put in this space, for the whole world to see - and interact with. There are very many options to do this, more know options include wix, godaddy, shopify etc and use whats drag and drop operation for you to create a presence that meets your needs. You can also build it manually (with programs such as Dreamweaver) which gives more flexibility but may cost alot more in time and effort/knowledge. The other option is to use a platform, we use opencart. The benefit is you still get the 100% control and flexibility but most the work is done for you.
* Website package features.



Server

:- Where this space lives. this also cost money each month/year, just like rent and again varies with each package/server with options that they may include.


SSL

:- Server site security certificate - especially required if the customer will be expected to enter their details. There are different levels of security and each cost money and renewed each year. (changes your address from http:// to https:// and also provides a green/safe icon to visitors of your site)

Our Services:- COMPLETED IN THREE - TEN DAYS

ONE OFF PAYMENT WHICH INCLUDES ALL FEES (DOMAIN AND HOSTING) PAID FOR THE FIRST YEAR.
EACH SUBSEQUENT FEES/RENEWAL WILL BE APPROX $115 PER YEAR
CLICK FOR RESULTS ON WHAT GOOGLE SEES FROM YOUR WEBSITE CURRENTLY: *THIS SHOWS ONE OF OUR WEBSITE PAGES
HERE
INSERT NEW TEST WITH YOUR WEB ADDRESS AND SEE RESULTS.
How To Use Edit / Add Meta Tags - SEO
References - Sites we've built :- (the differences are in the extra features and the way the sites are laid out
One Page Site | Sun Burst Promo | nujaymedia.com |
Package I
DEMO layout
|
GraduatePhotoGifts.com
|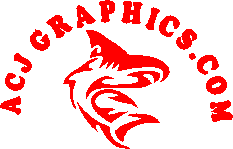 ACJGraphics.com
|
AllForNala.com
|
Novelties2Go.com
|
PurpleHousePresents.com
|
CrushedInkCreations.com
|
CreativeSignzDesignz.com
|
MaconInnovations.com
|
OmegaCustoms.net
|
ashs mashups
|
4askreativexpressions.shop
|
SensationsTherapeuticMassage.com
|
Mid-West Biker Gear
|
Package III (includes Photo Portfolio)
DEMO layout A
|
DEMO layout B
|
DEMO layout C
|
DEMO layout D
|
DEMO layout E
|
PrintingREADY.com
|

MyGear.biz
|
LaughingProfessor.net
|
Vinyl-Cutter.US
|
A NEARY BIOHAZARD CLEANING
|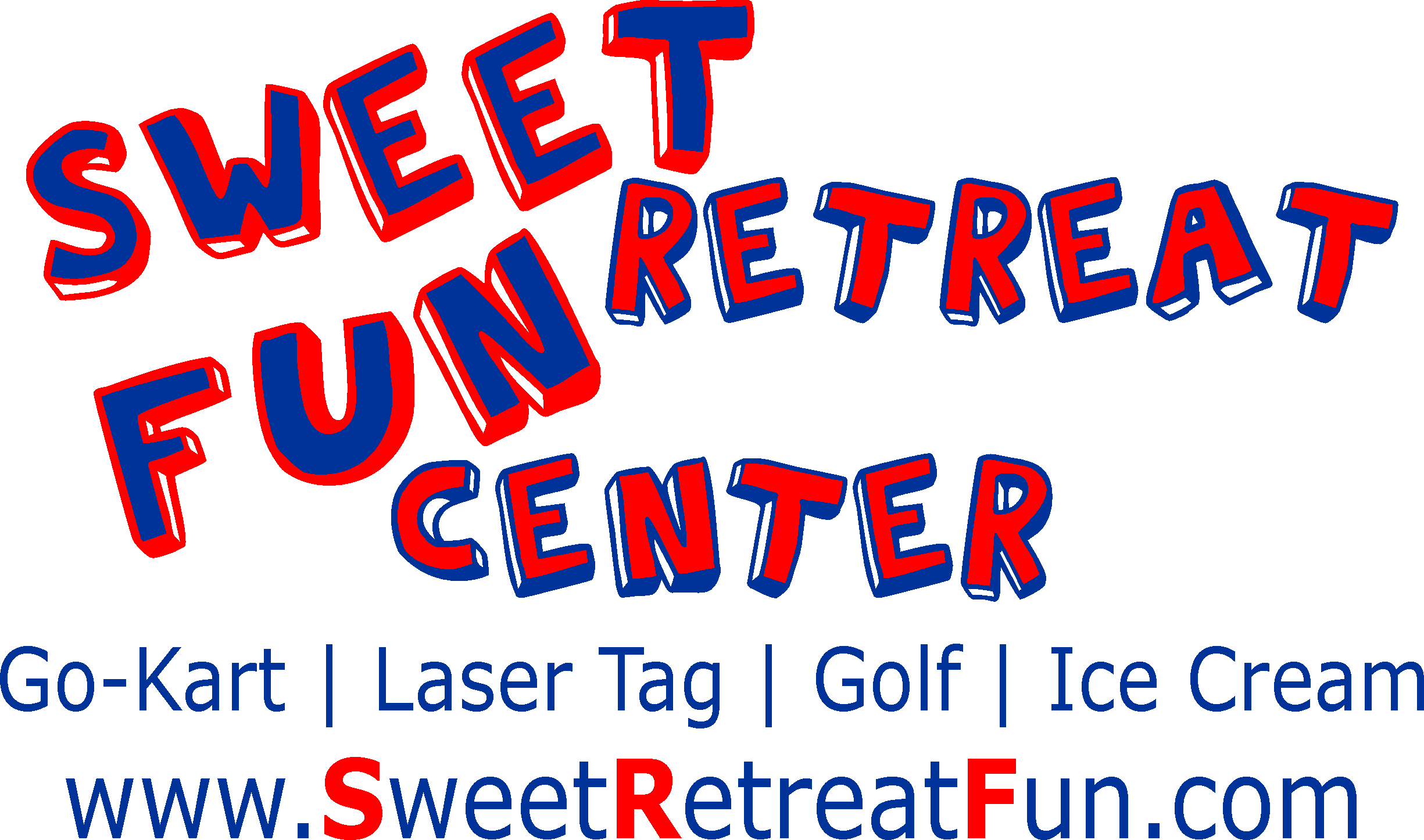 SweetRetreatFun.com
|
ICTKeepers.com
|
PenguinLaser.com
|
PositiveAccents.com
w/Online Designer |
SweatshirtLadyandMore.com
w/Chat |
moahsark.org
|
perfectly-imperfect-crafts.com
|
SellSublimation.com
|
SavyDesignz.com
|
PureCosmicPrinting.com
|
CountryChickDesign.com
|
LC Sublimation Store
|
spicy's custom creations
|
digi werx shop
|
Courtneys Creations llc
+Online Designer |
Uncensored Ink
+web chat |
43 Graphix
|
off the wall tees n more
|
the smak shak
|
Chronic Custom Designs
|
Aye-En-Jee
|
sdm custom prints
|
Koda Graphics and Gifts
|
uniquelyys.ca
Canada |
iprint141
UK |
Wingin it Crafts
|
Going-Gifty.com

| You are welcome to join our Facebook Group:
The Professor, PrintingREADY - Website help |
Tags:
package
,
iii
,
package
,
iii
,
site
,
build
,
packages
,
popup
,
newsletter
,
faq
,
blog
,
header notice
,
filter products
,
one page checkout
,
photo gallery
,
inventory reports
,
sales reports
,